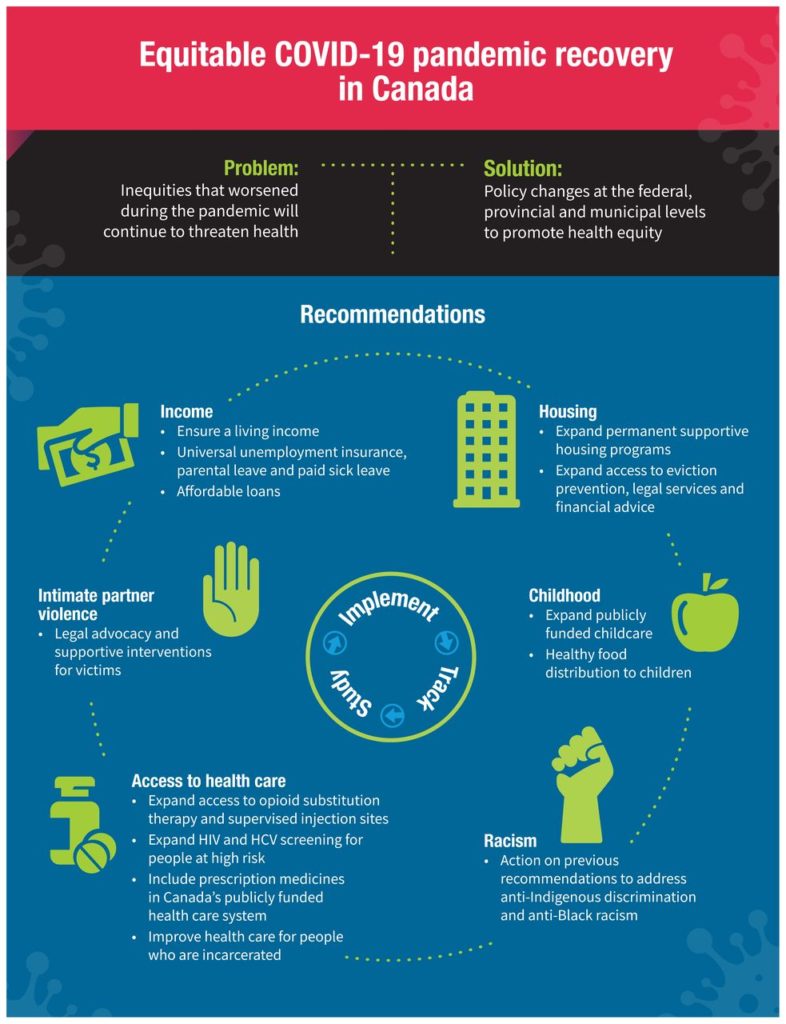 TORONTO, December 13, 2021 – A task force of scientists at MAP Centre for Urban Health Solutions has published the Equity Roadmap: Recommendations for equitable COVID-19 pandemic recovery in Canada. Published in CMAJ (Canadian Medical Association Journal) Dec. 13, these recommendations look to address long-standing health inequities that were exposed and exacerbated by COVID-19, which will continue to threaten health outcomes in Canada after the pandemic.
Based on research conducted throughout the pandemic, MAP recommends governments at all levels across Canada consider the policy changes covered in this report. Implementing these proven interventions and recommendations in the areas of income, housing, intimate partner violence, childhood, access to health care, and systemic racism would help to ensure a healthier future for everyone in Canada, while putting Canada in a better spot to respond to the next pandemic. The task force is led by MAP scientist and Canada Research Chair in Health Justice Dr. Nav Persaud, and includes MAP's leading experts on interventions to address homelessness, income-related health inequities, gender-based violence, childhood health inequities; barriers to health care; and systemic racism.
"Coordinated pandemic responses include efforts to return life to "normal" after the immediate threat, but the COVID-19 pandemic has underscored the need to address inequities rather than resume the unfair status quo," write the authors.
As Canada begins to consider a post-COVID-19 future, there is a tremendous opportunity to address long-standing health inequities and ensure that no one in our society is left behind. The recommendations in this report look to guide those efforts, making them as efficient and effective as possible.
The authors define the pandemic recovery period as the stage when the direct harms of COVID-19 abate but their recommendations might be needed for months, years or as permanent solutions.
Endorsements:
This guideline is endorsed by Black Physicians of Canada, Canadian Doctors for Medicare and the Canadian Medical Association. The College of Family Physicians of Canada supports these recommendations.
About MAP
MAP Centre for Urban Health Solutions is a world-leading research centre dedicated to creating a healthier future for all.
Through big-picture research and street-level solutions, our scientists tackle complex community health issues – many at the intersection of health and equity. MAP is changing the way the world understands the health consequences of social inequality in Canada.
Together with our community and policy partners, we are charting the way to the world's healthiest cities: places where people, communities, and the political, economic, social, environmental, and health infrastructures come together so that everyone can thrive.
MAP is part of the Li Ka Shing Knowledge Institute of St. Michael's Hospital and is fully affiliated with the University of Toronto. St. Michael's is a site of Unity Health Toronto, which also includes Providence Healthcare and St. Joseph's Health Centre.
Learn more at www.maphealth.ca