This excellent Toronto Star piece includes interviews with three MAP scientists: Drs. Jim Dunn, Stephen Hwang, and Rick Glazier. It also refers to our report on primary care gaps in Ontario, and includes maps from our Ontario Community Health Profiles Partnership website.
When Toronto Public Health released its map of neighbourhoods hardest hit by COVID-19, for people in the city's northwest it felt like déjà vu.
It looked strikingly similar to the map showing where chronic diseases like diabetes are highest. It mirrored a 2014 report highlighting Toronto neighbourhoods facing the biggest social and economic disadvantages. It might as well have been any number of maps showing some of the city's highest concentrations of poverty in highrises or lowest post-secondary education.
Every time, the same northwest neighbourhoods pop out — a cluster of communities spanning a large swath of Toronto, wedged between Dufferin St. and Highway 427 to the west, running south from Steeles Ave. to Eglinton Ave.
…When Ontario researchers examined the geography of primary care gaps in the province, they found that areas of the province with the highest needs were getting the lowest levels of care. In Toronto, those areas clustered in the city's northwest corner and in south Scarborough.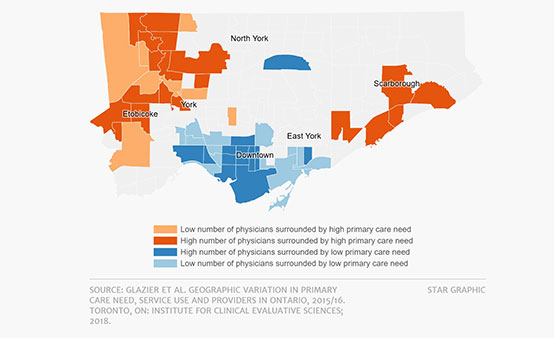 "You've got a lot of poverty of opportunities and of services, and some of (that) is lack of health care," said Dr. Rick Glazier, a senior scientist at ICES and the lead author of the 2018 report.
Access to a family physician has been vital in the pandemic, Glazier noted — especially in the early months when it was difficult to get tested. Primary care doctors and nurses were crucial in providing advice on how to get tested, how to self-isolate, or when go to the emergency department.
The northwest has strong Community Health Centres, which offer a unique model of care and have deep roots in these neighbourhoods. CHCs like Rexdale and Black Creek are mandated to address the health of the community and the social determinants of health, and serve anyone who needs care, even if they are uninsured.
"I can't say enough wonderful things about them," said Glazier, a family doctor himself. But he added that they cover a small proportion of the population, and underserviced areas need more.