This study is part of the MAP/St. Michael's Hospital Foundation COVID-19 Catalyst Fund, launched to advance our most urgent priority projects. Learn more
What's New
Evaluation of Encampment Outreach Supports during COVID-19 is now available. We also have four other full length reports for the MARCO Evaluations.
Below are the first round of results for the MARCO evaluations. These reports highlight some important findings of each evaluation. The full length reports have been posted above.
On December 2, 2021 the MARCO Evaluation Team hosted a Town Hall to share and discuss their first round of results. The MARCO project (People Experiencing Marginalization and the Effects of the COVID-19 Pandemic Response) at MAP Centre for Urban Health Solutions is evaluating how local efforts responding to the COVID-19 pandemic serve people experiencing marginalization, and how these interventions can be improved.
Sign Up for Study Updates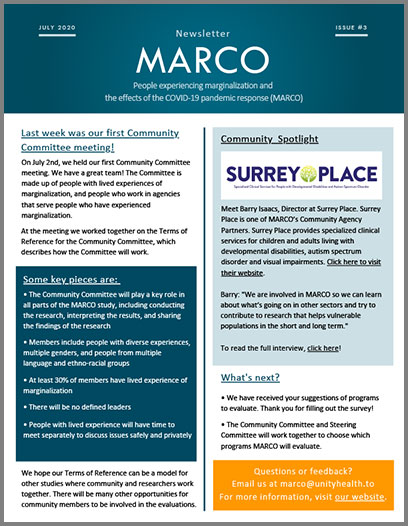 We send out study updates (by email) every two weeks.
Building a better health and social system for marginalized populations, during COVID-19 and beyond.
Efforts to control the COVID-19 pandemic affect everyone, but they place a particularly heavy burden on people who are marginalized — including those experiencing homelessness, poverty, incarceration, and addiction.
Thousands will require new kinds of programs and services to protect their health and maintain essential support systems. It's crucial that these programs are based on sound, community-based research.
This collaborative, mixed-methods, community-engaged study will examine the myriad negative effects of physical distancing policies on marginalized populations in Toronto, and will develop immediate, effective, on-the-ground solutions. This effort builds upon MAP's extensive, established community partnerships across Toronto.
Study Objectives
To describe how the current and evolving public health response to the COVID-19 pandemic changes health risks for people who are marginalized, including unintended increase in risks.
To characterize barriers to accessing health and social care during the COVID-19 public health crisis that are specific to sub-populations experiencing marginalization.
To develop and implement solutions to mitigate risks and enhance access to health and social services for people who are marginalized.
To rapidly evaluate emerging approaches for revision, adaptation, and scale-up.
The Outcome
Our evidence and solutions will help the health and social service system respond quickly to better protect and support marginalized populations, and to prioritize investments by highest need and highest potential to make change.