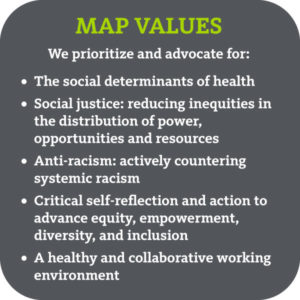 On Oct. 11, MAP Centre for Urban Health Solutions announced the 2022 winners of the second annual MAP Awards: Kristy Yiu, Anna Yeung, and Ayan Yusuf. These awards recognize three outstanding MAP staff, students or volunteers who have excelled in their roles and demonstrate a passion and commitment to applying MAP's values in their work.
Kristy Yiu (she/her), Research Coordinator on Dr. Sharmistha Mishra's team, is the winner of the MAP Values in Practice (MVP) Award, an award to recognize an individual who exemplifies and advocates for MAP values in their work and interactions. Her colleagues shared that "Kristy has been a great team member, a fabulous mentor, a huge asset to our team, and is so deserving of this award and recognition." They also note that she "creates an environment based on listening (over just a focus on productivity) and a path to mutual understanding. In her team leadership, she has helped shape a culture of powerful and open discussions on empowerment, equity, and social justice – including in our global health partnerships."
Dr. Anna Yeung (she/her), Research Manager on Dr. Ann Burchell's team, is the winner of the Peer Mentor Award, an award to honour an individual who works hard to help colleagues learn, feel valued, and do well at work. Anna's colleagues shared that "Anna holds individual check-ins with staff and students to understand their challenges and celebrate accomplishments, offering to help workshop solutions together. She seeks out opportunities for trainees and fellow staff to gain experience aligned with their professional development goals that will benefit their careers." A member of her team noted that "having seen how much she gives of herself to others… I believe that her kindness and generosity deserves recognition—she 'sees' others around her and, in turn, I would like her to be 'seen' for all she does for our team."
Ayan Yusuf (she/her), Research Coordinator on Dr. Stephen Hwang's team, is the winner of the Community Partnership Award, awarded to an individual who consistently models exemplary community partnership practices and integration of the perspectives of community and people with lived expertise into their research. Members of her team shared that she "brings extensive theoretical knowledge and a strong perspective about the importance of community engagement to MAP, but it is Ayan's ability to translate that theory into practice that has been particularly impressive," and that "she is constantly interrogating her own approach and gently but firmly pushing all of us at MAP to invest and improve in community engagement."
Congratulations to the winners, and to all of the 2022 MAP Award nominees!