Attention: Sean Weir, Executive Chair, Tribunals Ontario
April 6, 2022
Dear Executive Chair Sean Weir,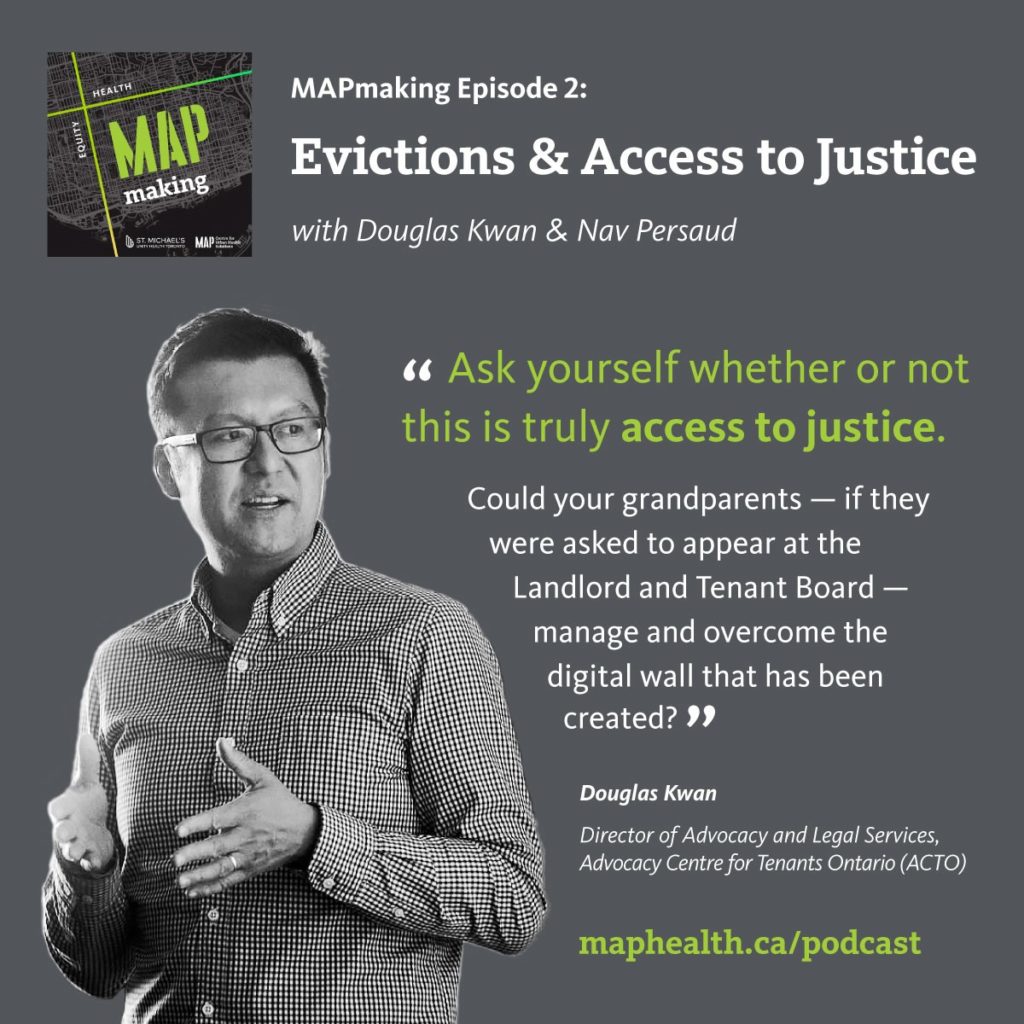 We are writing to draw your attention to the urgent need to offer the option of in-person hearings at Ontario's Landlord and Tenant Board (LTB). Indoor settings are now open across Ontario. This includes public buildings such as libraries, community centres, universities and government offices. It also includes private sector venues such as gyms, restaurants and sports stadiums.
We are an interdisciplinary team of epidemiologists; public health specialists; primary care providers and internal medicine and family physicians. We work at or collaborate with the MAP Centre for Urban Health Solutions at St. Michael's Hospital in Toronto, but we have affiliations and practices in a variety of settings.
Together, we have expertise in: COVID-19 treatment and vaccination; tracking or modeling infectious disease outbreaks; housing and homelessness; and working to ensure a wide variety of environments are as safe as possible from COVID-19.
Many of us have seen the devastating effect of remote hearings for our patients. And, as a group, we want Tribunals Ontario to know that it is entirely possible to open in-person hearing spaces that meet or exceed the COVID-19 safety standards applied to the types of venues listed above.
We know the LTB used both dedicated hearing spaces in large cities and temporary venues such as church halls or hotels in smaller jurisdictions. Simple and often cost-effective measures can ensure these sites meet or exceed the COVID-19 safety standards in place across the province.
These measures are well-known and implementation is straightforward. In addition, in many public venues, they should already be in place. These measures include: the provision of well-fitted, high-quality masks; physical distancing; limiting occupancy (including in waiting areas); limiting wait times; use of portable air filters appropriate for room size; opening windows where possible; optimizing ventilation and filtration provided by HVAC systems; use of well-maintained bathroom fans that exhaust to the outside; and, hand hygiene measures. For people with cell phones, they could also be given the option to wait outside for a call until their hearing begins.
The problems with an exclusively digital approach are well known. More than a year ago, in October, 2020, legal clinics across Ontario released a report to your attention and to the Attorney General, "Ontario legal clinics' concerns: Landlord and Tenant Board's operations during the COVID-19 pandemic." This report demonstrates the advantage that remote hearings often give to landlords over tenants. For example, some tenants do not have access to the necessary technology and resources such as "computers, printers, internet, phone minutes, or even a private space from which to participate in remote hearings."
In addition, remote hearings have meant a reduction in supports for tenants, such as those provided by onsite staff such as LTB staff mediators, Legal Aid Ontario-funded tenant duty counsel, and LTB counter staff. Although these resources remain present in the digital format, their ability to help is reduced and in some specific hearing blocks they are simply unavailable. Finally, some tenants with disabilities (visual, auditory, cognitive impairments, etc.) have difficulty participating in remote hearings as they are presently configured by the LTB.
These are just a few examples. A recent report explores tenant experiences in remote hearings from March to May 2021, and details a range of hardships caused by the current format. We encourage you to read it carefully, and consider the consequences of the current situation for people's lives. As the report makes clear, "…a tenant's inability to participate in a hearing has potentially dire consequences – the loss of their home."
The stakes are high for tenants at the LTB. Losing housing can directly harm health, for example, by making it difficult for people to take medications and manage diabetes. Stressors such as being evicted can directly impact mental health. Unstable housing can also make it difficult for under-housed individuals to engage in health and mental health supports.
The importance of secure housing to health and mental health outcomes is well-supported by scientific evidence. A recent study in the Canadian Medical Association Journal explores policies with the greatest capacity to improve health in the wake of the COVID-19 pandemic. Eviction prevention is one of the measures at the top of the list. Ending tenancies that might otherwise be preserved will, simply put, make people sick.
It is time to ensure that in-person hearings are made available for Ontario tenants. At many sites, this can be done very quickly. To assist, we are providing our contact information to Tribunals Ontario.
As Ontario continues to re-open in the weeks to come, we look forward to seeing the reopening of in-person LTB hearings as well. We are prepared to offer our expertise and experience to assist with this, and hope you will contact us to that end.
Sincerely,
Dr. Stephen Hwang, Staff Physician, General Internal Medicine, St. Michael's Hospital
Research Scientist and Director, MAP Centre for Urban Health Solutions
Professor of Medicine, University of Toronto
Chair in Homelessness, Housing and Health, University of Toronto and St. Michael's Hospital
Dr. Nav Persaud, Canada Research Chair in Health Justice
Associate Professor, University of Toronto
Staff Physician, St. Michael's Hospital
Research Scientist, MAP Centre for Urban Health Solutions
Dr. Sean B. Rourke, Scientist, MAP Centre for Urban Health Solutions
Director, CIHR Centre for REACH Nexus
Professor of Psychiatry, University of Toronto
Dan Werb, PhD, Director, Centre on Drug Policy Evaluation
Assistant Professor, Division of Infectious Diseases & Global Public Health, UC San Diego
Scientist, MAP Centre for Urban Health Solutions
Naomi Thulien, NP-PHC, PhD, Research Scientist, MAP Centre for Urban Health Solutions
Assistant Professor, Dalla Lana School of Public Health, University of Toronto
Nurse Practitioner, Covenant House Toronto
Rosane Nisenbaum, Biostatistician, MAP Centre for Urban Health Solutions
Division of Biostatistics, Dalla Lana School of Public Health
Dr. Andrew Pinto, CIHR Applied Public Health Chair in Upstream Prevention
Director, Upstream Lab
Research Scientist, MAP Centre for Urban Health Solutions
Associate Professor, University of Toronto
Staff Physician, St. Michael's Hospital
Dr. Ahmed Bayoumi, Staff Physician, General Internal Medicine, St. Michael's Hospital
Professor of Medicine and Health Policy, Management and Evaluation, University of Toronto
Research Scientist, MAP Centre for Urban Health Solutions
Fondation Baxter and Alma Ricard Chair in Inner City Health, University of Toronto and
St. Michael's Hospital
Patricia O'Campo, PhD, Executive Director, Li Ka Shing Knowledge Institute, Unity Health Toronto
Research Scientist, MAP Centre for Urban Health Solutions
Tier 1 Canada Research Chair, Population Health Interventions
Professor, Dalla Lana School of Public Health, University of Toronto
Dr. Rami Shoucri, Family Physician, St. Michael's Hospital Academic Family Health Team
Assistant Professor, University of Toronto, Department of Family and Community Medicine
Clinical Champion, Health Justice Program
Dr. Danyaal Raza, Family Physician, St. Michael's Hospital Academic Family Health Team
Social Accountability Faculty Lead & Assistant Professor, University of Toronto, Department of Family and Community Medicine
Dr. Kathryn Dorman, Family Physician, Addictions Medicine Program, St. Michael's Hospital Academic Family Health Team
Assistant Professor, University of Toronto, Department of Family and Community Medicine