July 29 2022 – At the 24th International AIDS Conference, the world's largest conference on HIV and AIDS, MAP scientist Dr. Sean Rourke has unveiled a tool that not only eliminates barriers to HIV testing, but connects people to care.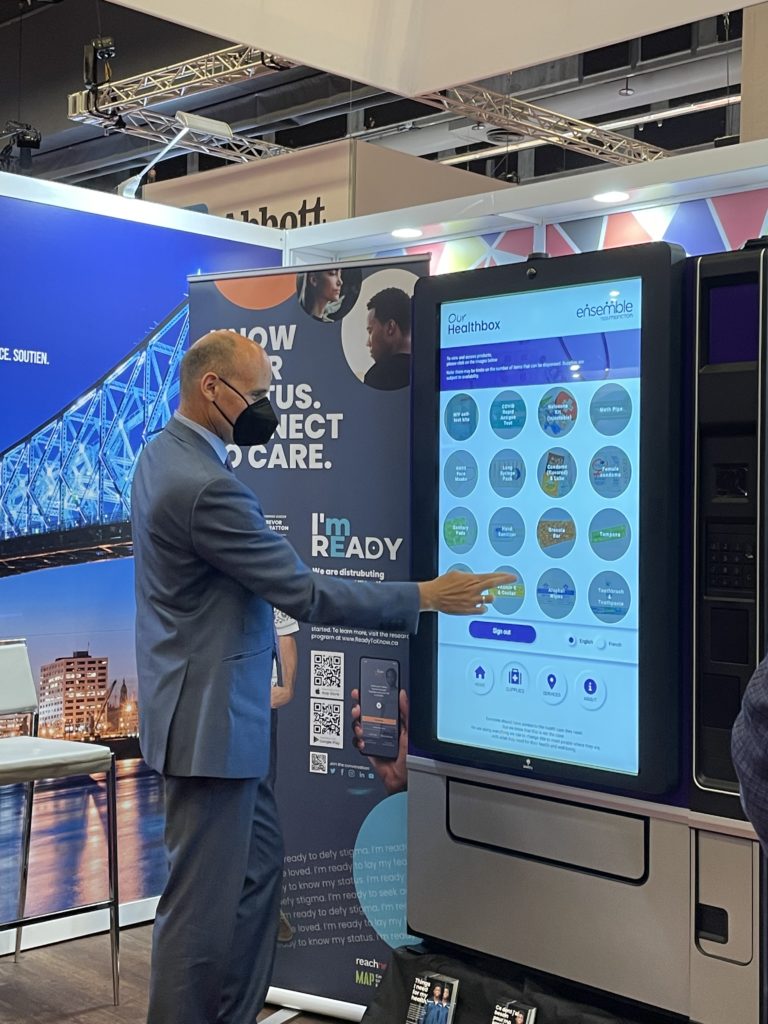 Our Healthbox is "smart", interactive dispensing machine that provides free, 24/7 access to self-testing kits for HIV as well as COVID-19, naloxone kits, and other essential harm reduction, sexual health and hygiene supplies. The machine also provides health information and a support services directory for people to find the health care they need—in their community.
Dr. Rourke's REACH Nexus group is planning to launch 25-30 machines nationally this year, with a goal of 100 machines deployed over the next three years. The machines will be hosted and maintained in partnership with local community-based organizations, public health authorities, and health centres across the country.
In Canada, one out of 10 people who have HIV don't know it. To reach the undiagnosed, Dr. Rourke's REACH Nexus group launched the I'm Ready program one year ago, an app that enables free, easy access to HIV self-testing kits and support. Since then, the program distributed more than 10,000 self-tests across Canada. However not everyone has a phone, so Our Healthbox was designed to close that gap and meet people where they are.
Our Healthbox and I'm Ready are also health research programs. To access the resources, participants must register and answer a few questions about themselves. The information that is collected remains private and confidential and will help the REACH research team evaluate how well the programs are working.
If you are a community organization and want to place Our Healthbox in your neighbourhood, email ourhealthbox@unityhealth.to.