"When this pandemic started a lot of folks were talking about it being the great equalizer – we are all in the same situation. We very quickly realized this was not the case." ~ front-line provider (focus group)
By Drs. Naomi Thulien & Amanda Noble, for Homeless Hub
In June 2020, we received funding from the Canadian Institutes of Health Research to lead a knowledge synthesis of promising mental health and substance use practices utilized during the COVID-19 pandemic with young people who were experiencing or had experienced homelessness.
Instead of conducting a traditional knowledge synthesis by pulling together evidence found in academic journals, we wanted to hear directly from front-line providers and the young people they served. We were fortunate to work with great team of front-line clinicians, researchers, public policy influencers, and people with lived expertise in homelessness, mental health challenges, and substance use to conduct this research.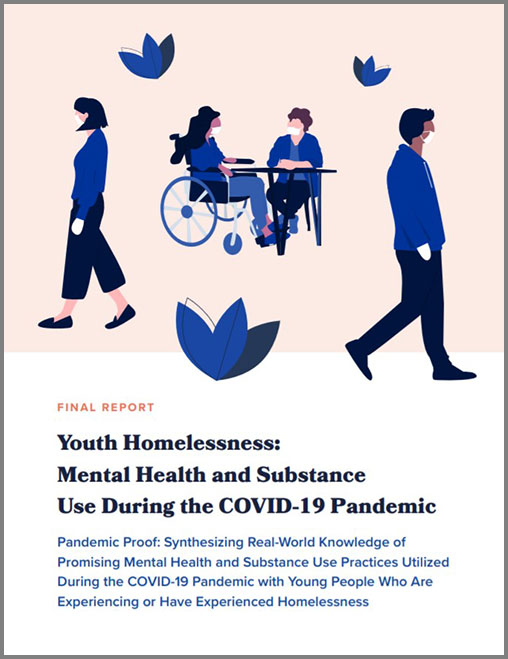 Our final report contains survey data from 188 front-line providers across Canada and is supplemented by three focus groups – two with providers and one with young people who have experienced homelessness. We focused on three key domains: 1) pandemic impacts on mental health and substance use patterns; 2) practice adaptations; and 3) promising and transformative approaches.
Our overall aim was to shed light on promising practice adaptations; however, the evidence we uncovered over the past five months has been less about downstream individual-level interventions and more about the need for upstream structural interventions. While there is a pressing need to understand what individual-level practice adaptations hold promise to meet the mental health and substance use needs of young people who are experiencing or have experienced homelessness (and we do expand on this in our report), it is essential that we situate this need and our response within the broader societal context in which youth exist.
If the problem of worsening mental health and substance use during this pandemic is caused by/connected to intersecting structural inequities such as racism, insufficient housing, precarious employment, limited social connections, and poverty, and not individual "vulnerability" (a term that denotes weakness and used all too often when referring to youth experiencing homelessness), then it is logical that the proposed solutions should encompass structural interventions.
The COVID-19 pandemic has exposed and created a multitude of intersecting inequities that providers and young people are struggling to navigate. It also presents a unique opportunity to reimagine how we serve young people who are experiencing or have experienced homelessness.
Key Messages
We must pay special consideration to the mental health and substance use needs of young people with current and past experiences of homelessness, who are more likely than the general population to have pre-existing mental health challenges, struggles with financial hardship, and employment uncertainty.
Providers must be careful not to inadvertently perpetuate access inequities – already common in this population – by pivoting to phone/virtual care without having a concurrent plan around addressing resource-related barriers to access.
While it intuitively makes sense to divert young people from the shelter system – especially during a pandemic – we must ensure these young people have the social and economic supports needed not just to survive, but to thrive.