Primary care is the front door of the healthcare system. We want to understand how it has been impacted during COVID-19, the potential implications for patients, and strategies for mitigating the challenges arising.
About This Project
The specific objectives of this project are to:
Determine the extent to which family physicians have closed their doors altogether or for in-person visits.
Understand the characteristics of family physician practices that have closed, the root causes of the closures, and potential supports.
Develop and/or advocate for practical supports to help family doctors and their patients.
The project team used publicly available data together with data from Ontario Health and collaborators to build a comprehensive database of General Practitioners/Family Physicians practicing in the Toronto region along with relevant practice and contact information. Between May and October 2020, the team reached out to family practices in Toronto, using a combination of phone, fax or e-mail, to collect data on practice patterns during the COVID-19 pandemic. Further outreach is planned in January 2021.
Practice patterns during the first COVID wave
Our outreach found that most family physician practices were open and providing care to their patients. Our initial results indicate that overall, 8.7% of FPs/GPs were providing only virtual care and 1.7% of FPs/GPs had stopped seeing patients entirely. There were some differences in how many physicians closed their doors based on the month during which the outreach was conducted. In April – June, 4.3% of physicians were not seeing any patients, including in-person or virtual care. By September – October, this had dropped to 1.5% of physicians who had closed their doors entirely. There were also some differences by physician sex and age with male and older FPs/GPs being more likely to have closed their doors entirely.
The most commonly cited reasons for closure, in rank order, were health concerns, a lack of PPE, and PPE costs. Loss of income and environmental cleaning were also among the reasons provided by FPs/GPs. When asked what supports would help them keep their doors open the responses provided by physicians included a supply of PPE and cleaning materials and being matched with another physician who could provide in-person services and communicate results to patients and caregivers.
Practice patterns in January 2021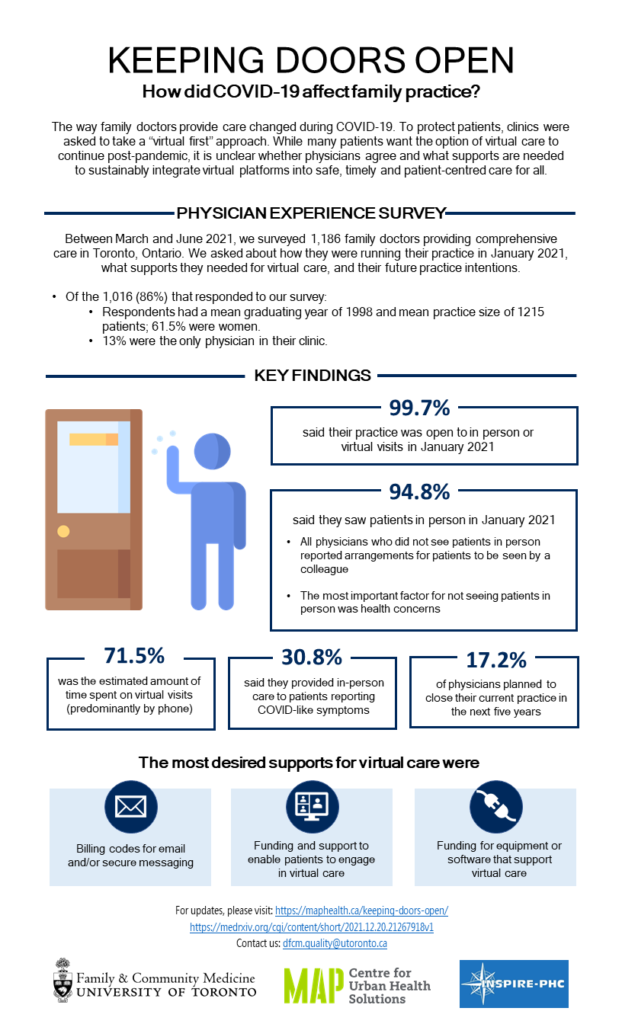 Next Steps
We have collaborated with partners to produce a one-page handout for the public to confirm that family doctors' offices are largely open; that virtual care is care; and what to do in case your doctor's office is closed. Other potential next steps include a refresh of the data during wave 2 of the pandemic and a deeper dive in understanding reasons for closures and whether system supports are needed for physicians and patients.
Our collaborators are committed to using our findings to support family physicians to continue to deliver care during the pandemic and provide avenues for patients to access care if their doctor's office is closed.