MAP has launched 10 collaborative solutions networks with a common goal: to effect real-world social change by co-designing and demonstrating what works to address critical urban health challenges in our communities. Learn more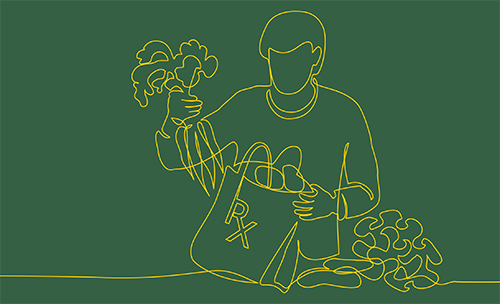 Four million Canadians struggle to afford healthy foods, such as fresh fruits and vegetables.
The same, low-income population is at increased risk of diabetes and its complications. These inequities are closely linked; a healthy diet is foundational to diabetes management and prevention.
Canada's current system for addressing food insecurity relies on food banks, which are used by more than one million Canadians every month. However, in order to keep up with demand, food banks prioritize the quantity of donated food over its nutritional value.
The Solution
Our network is co-designing and testing a new solution to food insecurity that's specifically designed to improve chronic disease outcomes. The program provides healthy food vouchers to people at risk of diabetes complications. These vouchers are prescribed by physicians and can be spent on healthy food at grocery stores or markets.
We will demonstrate the feasibility of a prescribed food voucher model in Canada, and evaluate its effects on diabetes outcomes through a randomized controlled trial.