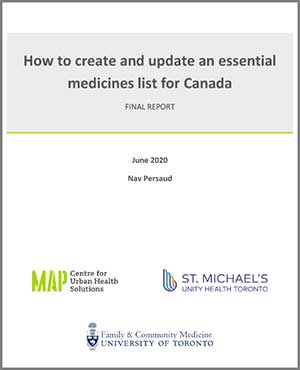 This report describes the steps and processes required to create and update an essential medicines list for Canada.
Canada doesn't have an essential medicines list. This report provides technical and practical advice to inform implementation when the decision is made to create one.
Background
More than 130 countries, including 21 high-income countries, have created their own national lists of essential medicines, based on the World Health Organization (WHO) Model List of Essential Medicines. These lists include the medications considered by that country to be the most effective and safe options to meet the most important needs in a health system.
Since the 1960s, five separate national commissions have recommended that medically necessary prescription drugs be included in Canada's universal public-health insurance system. As COVID-19 intensifies the need for national pharmacare, the development of an essential medicines list for Canada would be an important — and urgent — step forward.
Key Messages
If a decision to implement an essential medicines lists is made as recommended, one can quickly be created using international guidance, experiences from other countries and existing capacities and expertise in Canada.
The medicines included in Canada's essential medicines list would be a subset of the medicines included in lists of medicines that are publicly funded for certain subpopulations in Canada, and the list can be similar to essential medicines lists in other countries.
An interdisciplinary committee should use defined criteria and the best syntheses of available information to recommend effective medicines for inclusion in the list.
An Executive Director of a new essential medicines program should make final decisions that are insulated from political influence.
The list, its processes and information that promotes the appropriate use of medicines, should be disseminated by national clinician associations, provincial and territorial governments, clinical champions and patients.
The essential medicines list should be integrated with efforts to negotiate drug prices and procure medicines.
Carefully tracking the effects of an implemented essential medicines list could help ensure health outcomes improve and help inform policies in other countries.
Suggested Reading
Jarvis JD, Murphy A, Perel P, Persaud N. Acceptability and feasibility of a national essential medicines list in Canada: a qualitative study of perceptions of decision-makers and policy stakeholders. CMAJ. 2019;191(40):E1093‐E1099. doi:10.1503/cmaj.190567