Improvements to indoor air quality can help limit transmission of COVID-19 and other respiratory diseases. We're working with researchers with expertise in engineering, indoor air quality, epidemiology, public health and knowledge translation to help share practical information about improving indoor air quality with community spaces in Toronto and beyond.
Reducing transmission of COVID-19 through improvements to indoor air quality: a checklist for community spaces
A plain language, step-by-step guide outlining how community spaces can use indoor air quality measures to help reduce transmission of COVID-19. The latest revision of this checklist was Oct 26, 2022. Please see the summary of revisions here.
Indoor air office hours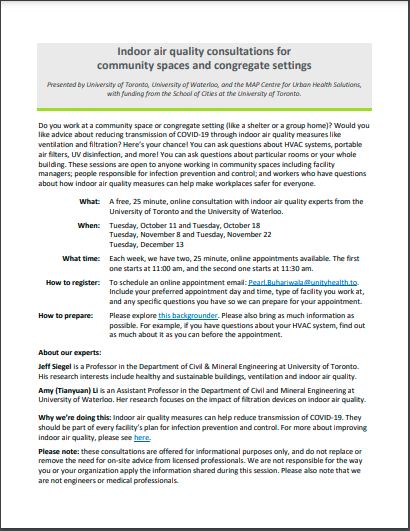 Do you work at a community space or congregate setting (like a shelter or a group home)? Would you like advice about reducing transmission of COVID-19 through indoor air quality measures like ventilation and filtration? Here's your chance! You can ask questions about HVAC systems, portable air filters, UV disinfection, and more! You can ask questions about particular rooms—like bathrooms, clinics or sleeping areas—or your whole building. These sessions are open to anyone working in community spaces including facility managers; people responsible for infection prevention and control; and workers who have questions about how indoor air quality measures can help make workplaces safer for everyone. For more information and to schedule an appointment, please see our flyer here.
Current Resources
Archived resources
These resources are no longer being updated, but are being maintained as part of our archive.
Some great external resources
General information:
Core recommendations for reducing airborne infectious aerosol exposure from the American Society of Heating, Refrigerating and Air-Conditioning Engineers.
COVID-19 guidance from the Federation of European Heating, Ventilation and Air Conditioning Associations.
HVAC systems:
Guidance on ventilation and COVID-19 from the Public Health Agency of Canada.
Guidance on COVID-19 risk reduction in residential buildings from the American Society of Heating, Refrigerating and Air-Conditioning Engineers.
Ventilation in Buildings from Centers for Disease Control and Prevention.
Portable air filters:
Portable air filter buying guide from the Clean Air Crew.
Twitter thread comparing portable air filters by Dr. Marwa Zaatari.
Clean Air Delivery Rate calculator for portable air cleaners. Use of portable air filters and transmission of COVID-19 from Public Health Ontario.
UV disinfection
Upper-Room Ultraviolet Germicidal Irradiation (UVGI) from Centers for Disease Control and Prevention.