MAP has launched 10 collaborative solutions networks with a common goal: to effect real-world social change by co-designing and demonstrating what works to address critical urban health challenges in our communities. Learn more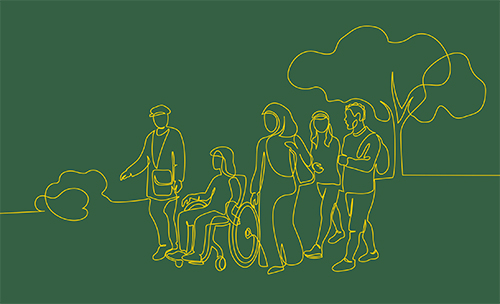 Cities are home to the majority of immigrants in Canada and globally — 61% of all immigrants in Canada live in Toronto, Vancouver, and Montreal.
Immigrants and refugees are at high risk of social isolation, which leads to increased risk of physical and mental health issues. Social isolation can result from many factors, including the loss of family, friends, and community during the process of migration; difficulty building new social networks; barriers to accessing housing, education, and employment; and barriers to accessing formal social support.
Research shows that peer support, walking, and exposure to green space can reduce social isolation and improve physical and mental health.
The Solution
Building Roads Together is an award-winning, community-based, peer-support walking and rolling (with mobility aids) program.
Planned, implemented, and evaluated in partnership with communities and peers, the program is led by peers in urban green spaces. Building Roads Together reduces social isolation, improves physical and mental health, and builds shared leadership capacity among people experiencing social exclusion. Our network's goal is to plan scaling and evaluation of this innovative, low-cost solution to cities across Canada and globally.